Morning Meeting & Phonemic Awareness Activity
* Question of the week: Do you know like to plant?
Whole Group:
This week, we began talking about planting. We discussed the life cycle of a plant and what a plant needs to survive. We also discussed types of plants.
Read Aloud Books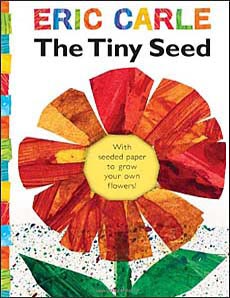 Centers
Whole Group Reading Response:
Sequence the pictures and write about what is happening in each picture.
Guided Writing: Draw a picture of all the things a plant needs to grow. Label your picture using the words in the word bank: air, sunlight, soil, water


Art:
We finished painting for our Eric Carle pictures. We also began working on our Mother's day art projects.
Comprehension:
Sequencing and life cycles
Writing:
We continue with our Monday morning journals to increase our journal writing skills.
We will begin Persuasive writing in our persuasive writing journal. Persuasive writing tries to convince or persuade someone why they should or should not agree with you.
The author's purpose is to:
Convince someone to do something
make someone believe in something
change someone's mind
Some of our persuasive writing entries are:
Will a tiger be a good pet?
Should children do chores?
They should serve _____ in the school cafeteria.
We will also writing about our classroom experiments during the month of March during our guided writing.
Listening Center:

From Seed to Plant
Science :
This month we will be studying magnets. Students will be using magnets at the science table to understand how magnets work what make magnets "stick" together.
We began working on our science journals. Our first journal entry was Oobleck. We experimenting with cornstarch and water to see how oobleck becomes a solid and a liquid in our hands. In our journals we wrote the materials, procedure and we drew a picture.
We will continue our science journal throughout march.
Social Studies:
We are studying community helpers this month. We will be looking forward to parents coming in to learn more about different occupations.
Important information to remember:
Field trip: Discovery Museum